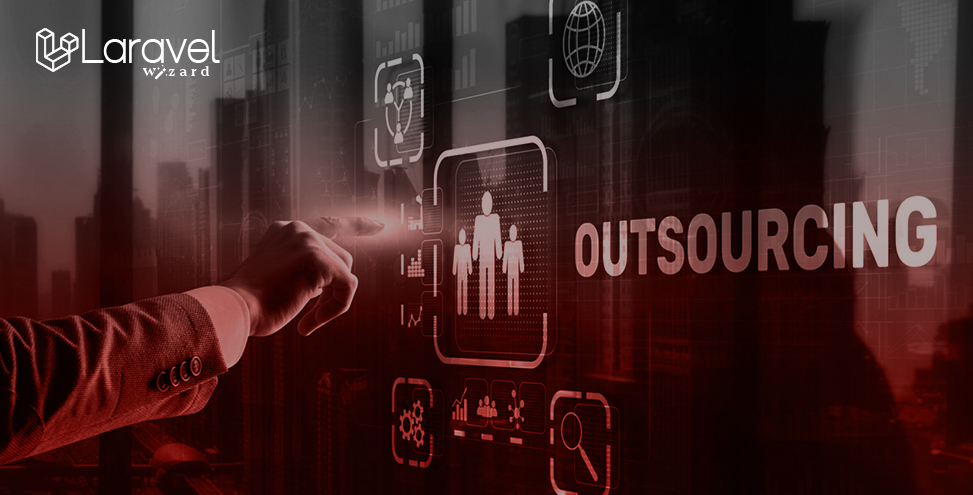 Streamline Your Business Processes by Outsourcing Laravel Development
June 22nd, 2023
As digital platforms continue to proliferate, more and more businesses are beginning to leverage their potential. Having a website has become essential for any business, and Laravel is acclaimed as the top PHP framework.
Laravel stands out as the preferred choice of developers due to its excellence among many frameworks available for web development. With that in mind, if you are considering hiring an in-house team or outsourcing for Laravel development, you will have to weigh your options.
Before thinking about outsourcing Laravel development services, it's important to understand why it's such a popular web and app development framework. Laravel's advanced capabilities and integrated functionalities have made it highly appealing to users over the years.
Let's discuss. 
What makes outsourcing a better option than hiring in-house Laravel programmers?
Finding, training, and retaining personnel for in-house development can be a taxing and, at times, rough procedure. Aside from enlisting personnel, one must invest in a web technology platform and develop the required foundation to help it. It's a costly responsibility to foot the bill for wages even if these personnel are not actively contributing to the project. As a result, the expenses are generally high.
Hiring Laravel developers for outsourcing projects offers significant cost savings, as you only pay for their actual working hours, eliminating the need for costly infrastructure development. Despite the fact that Laravel is cost-efficient, its capabilities exceed expectations. Thus, outsourcing to Laravel development companies proves to be the wiser decision.
When do you need to outsource Laravel development? 
When it comes to web app development, Laravel stands out due to its exquisite and expressive syntax. This framework was designed to simplify the web application development process, making it both easy and rewarding. 
If you're curious as to where and when you should take advantage of the Laravel web development process, look no further. Outsourcing Laravel development may be the answer.
Businesses involved in Data Management and Backend:
Content-focused app development and Customer Relationship Management (CRM) software are ideal representations of this concept. When developing a project, there are two possible avenues to explore: incorporate Laravel framework into an existing CMS or construct a custom system with scalability as the key priority.
For enterprises, Laravel offers many features that make it more reliable and easier to use than other PHP frameworks. This is due to services such as event broadcasting, service containers, and built-in systems, which are crucial for industries like eCommerce, healthcare, media, and others with high-traffic websites that require extensive data processing.
Laravel is a fast, powerful, intuitive, and accessible framework for aspiring web developers. It offers extensive resources, such as Laracasts, free and comprehensive tutorials, and several helpful tools like Lumen, Spark, Vapor, and Valet. Additionally, its large and thriving community of developers is a major plus. 
Thanks to its microservices architecture, Laravel provides the perfect scalability solution for small and medium-sized businesses, enabling the rapid development of up-to-date websites.
The Laravel outsourcing market is predicted to expand, indicating a rise in the popularity of Laravel. Many software development companies, including those specializing in PHP, outsource their work. Outsourcing a Laravel development company can help your business reduce costs, access the latest technology and expertise, and focus on core business activities. 
What are the Benefits of Outsourcing Laravel Development?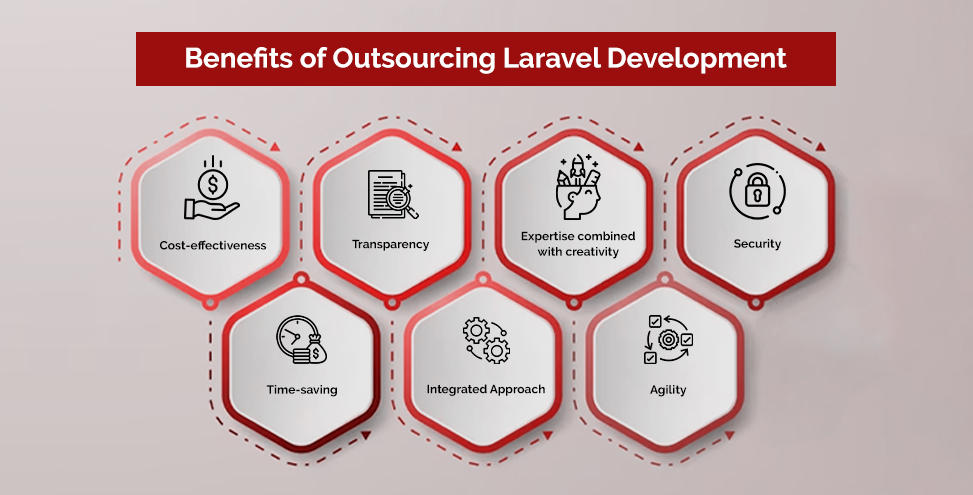 The following are seven compelling reasons to consider Ousouring laravel development services 2023, 
It is a widely debated issue whether businesses should employ an in-house development team or outsource the development services. Compared to outsourcing, in-house recruiting is usually much more expensive. For this reason, organizations often prefer to hire Laravel developers India, thus ensuring the quality of their product without putting a dent in their wallets.
The reliance on an outsourcing development company brings enhanced transparency to the Laravel project. Clear communication between the client and all involved ensures collaboration at every step, leading to more efficient progress and a guaranteed fulfillment of the client's desires.
Expertise combined with creativity:
Outsourcing Laravel development services could be the golden ticket for obtaining a unique blend of know-how and modern technology. It offers an excellent opportunity to access a wide range of experienced developers who possess exceptional technical proficiency. This will guarantee successful long-term outcomes by tapping into this high caliber of expertise.
Businesses today must ensure that their security measures are up to date due to the increased risk of being exposed to cyberattacks. By choosing a dependable outsourcing partner, you can be confident that their development staff will take all the necessary security measures and protective solutions to further ensure your product's security.
It is no secret that outsourcing Laravel developers can drastically reduce the time required to develop an app. Instead of the time-consuming process of developing the infrastructure and finding suitable in-house developers, projects can simply be given to an outsourced team and efficiently concluded on time.
Many businesses rely on Laravel providers to handle all aspects of their development needs, including bespoke product development and testing. In addition, these providers offer an extensive range of services, such as cloud solutions and digital consulting.
When outsourcing Laravel app development services for your project, your internal team of business professionals is given ample time, allowing them to dedicate more energy to their areas of expertise, which can lead to quicker growth of your business. Experienced Laravel website developers can quickly and agilely develop strategies to ensure a successful collaborative effort by utilizing leading industry practices.
To Sum Up
In a nutshell, outsourcing is a fantastic decision because it is more economical and efficient than employing an in-house developer. Partnering with a programmer or outsourcing a Laravel development agency isn't as difficult or risky as it appears. The considerations outlined in the guide should help you decide when and why to outsource Laravel development services. Make sure to contact a reliable IT outsourcing company to make an informed choice. Get in touch with us today.